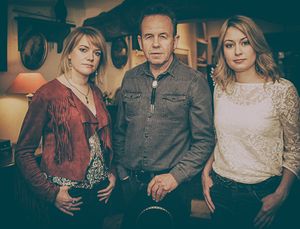 UK-based acoustic country trio Jimmy Rae & the Moonshine Girls have released one of the fastest recorded debut albums ever. 
'ONE DAY', which is released worldwide on Friday 10 August 2018 contains eleven original songs by Liverpool singer songwriter Jimmy Rae, all recorded in one intensive nine-hour recording session for a total cost of £150. 
The trio, who formed in September 2015, were inspired by the example of The Beatles, who famously recorded their debut album 'Please Please Me' in a single day in 1963. "We're a relatively new band so it was quite a big challenge to try and record a whole album in a day, but we wanted to capture the energy and spontaneity of our live shows" says Jimmy, a former RCA Records recording artist, who first tasted success as one half of 1980s Merseyside retro-pop duo The Reverb Brothers. 
"Music doesn't have to be processed and perfect to be exciting or moving. What matters is the feeling that goes into each performance. This is how some of my own favourite records were made, long before the days of computers, drum machines, Pro-Tools and auto-tuned vocals. We recorded most of the songs in just one or two takes, never more than three, and just kept going till we had them all down." 
'One Day' is the long overdue follow-up to Jimmy's well-received solo album 'Deliverance' (Matchbox Records 2009) but with a much stripped-back sound.  The simple arrangements provide a showcase for Jimmy's accomplished songwriting, with his warm, world-weary voice perfectly complemented by the precision vocal harmonies of Sarah-Lou Fletcher. 
The album has been on limited release to friends and fans since mid-2017 and, as a result of feedback from initial sales, the band have chosen 'This is What I Do', as the first single from the album. (click https://youtu.be/Kn3Pdt0c4lk for a preview). 
Jimmy Rae & the Moonshine Girls are: Jimmy Rae on vocals and guitar, Sarah-Lou Fletcher on harmony vocals, mandolin and percussion and Anna Poldervaart on piano, although the album was recorded with Anna's predecessor Izzy Ryder on piano. The band was formed in October 2015 and has been building its following across the folk clubs and acoustic venues of North West England as well as opening for folk rockers Merry Hell, Woody Pines (USA), Josh Harty (USA) and Cahailan and Morrison (USA). Festival appearances in 2017/18 included Liverpool International Music Festival, Folk on the Dock (Liverpool), Gorgys Secrets (Conway, North Wales) and Folk on the Farm, (Anglesey, North Wales) along with two sessions for Made in Liverpool TV. 
All media enquiries: 07919 156432 
Email: jrmoonshinegirls@gmail.com 
Twitter: @jrmoonshinegals 
Facebook: @JimmyRaeandtheMoonshineGirls 
Soundcloud: jrandthemoonshinegirls